Frequently Asked Questions
What area does Mobility Aids Australia Service and Supply to?
Mobility Aids Australia provide services for mobility aids product repairs, hire and purchase to the Melbourne metropolitan area (<50km radius from our Springvale store).
How far can I go on my scooter?
Battery sizes vary from 12 amp to 100 amp so the difference in the maximum range is considerable. The smallest scooters will have a range of up to about 15 kilometreswhilst the largest scooters can travel as far as 40 kilometres on one charge. However, as a general guide, most mid sized scooters will have a range of approximately 25-30 kilometres. These distances are based on travelling on flat ground with a standard load.
The range will also depend on a number of other factors including the terrain, the level of incline, weight of user and the weather. In reality the vast majority of users never get close to running out of battery power in their day-to-day use.
What's the difference between a 3 and a 4 wheel electric scooter?
The basic difference between the two is that 3 wheel scooters offer more legroom and are more manoeuvrable. Therefore they are more suited to taller users or people with knee, hip or ankle problems. Their tighter turning circle means they are easier to negotiate around shopping centres or for general indoor use.
The 4 wheel scooters are more stable especially if they are to be driven over rough ground or should the user make a mistake, for example, turning too quickly at high speed or approaching an incline on an angle.
Although there is a widespread belief that the 4 wheel scooters are 'safer' the fact is that, driven correctly, both 3 and 4 wheel scooters are perfectly safe and very unlikely to become unstable. We recommend that customers try both before making any decision or talk to one of our experienced consultants for more information.
Book a free home demonstration and our consultants will explain all your questions in person. Book Now.
What size scooter best suits me?
This will depend on a number of factors. Obviously your height and weight will make a significant difference – so, whilst portable scooters are great for people needing to transport regularly they are not suited to large framed people or those wishing to travel long distances.
Even so, there are some portable scooters that do offer reasonable legroom and weight capacities up to 136kg. Conversely, smaller framed individuals may find many of the large size scooters too big for them to handle, although again there are relatively small models even in this category. So it really comes down to assessing exactly what your physical needs are, your budget and where you intend to use the scooter.
Trying as many scooters as possible is also a great way to narrow down the options available and help you to find the right scooter for YOU. We have over 50 models of electric scooter on display in our showroom or, if you can't get to us, we have mobile showrooms on the road everyday which can bring up to 6 scooters to your home for a free demonstration or 7-day home trial. Book your free demonstration by completing an online contact form.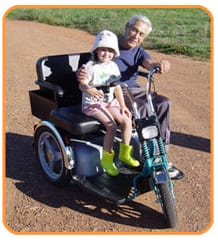 When and how long should I charge the scooter for?
Scooters use two deep cycle 12-volt dry batteries, which are either lead acid or increasingly commonly gel cell based. These batteries perform best when charged regularly and we therefore recommend that users charge them every night or at the least after each use. The batteries do not hold a memory and will last longer if not drained before re-charging.
All modern chargers are fitted with an automatic 'cut-out' feature. This means that even if the charger is left on continuously it will only draw enough charge to recharge the batteries and then either cut out completely or drop to a trickle charge.
Do the scooters come with a warranty?
Yes, all new scooters come with at least 12 months warranty.
Most products have a standard 2 year warranty against manufacturer defect only. This does not cover normal wear, tyres, inner tubes, accidental damage or misuse. In the unlikely event of a warranty claim either return the scooter to our workshop or simply call our head office and we will arrange for one of our technicians to come out to your home and either repair the scooter on-site or collect it and, if possible, leave you with a loan scooter to keep you mobile.
Please note, we pride ourselves on our level of service and support – we DO NOT use outside contractors. We believe in taking responsibility for our own customers so that you will always have the same company who supplied the product available to meet your servicing needs at any time in the future.
How often should I get my scooter serviced?
Modern scooters require very little in terms of servicing. The motors are sealed and require no lubrication so apart from making sure that the batteries are regularly charged and the tyres maintain good air pressure (approximately 35 psi) there's nothing more to do.
Some users like to have their scooters checked once a year just for peace of mind.
Usually such services will include standard checks and cleaning of connections, battery leads, motor brushes and charging units as well as checking tyre pressure. We undertake all service work ourselves, using trained technicians.
Mobility Aids Australia have full time service technicians on hand to help with all your service needs. Contact us to enquire about servicing your scooter or power wheelchair. In order to maintain high quality service to our customers we only service products that we have sold.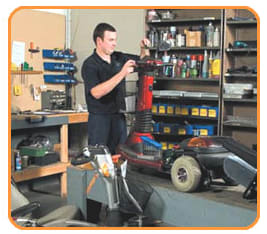 How long do the batteries last?
This is a very open-ended question, a bit like how long is a piece of string!
Again there are a number of factors to consider – how often the scooter is used, how regularly it is charged, how many inclines does it go up and down, what load is it carrying, what type of battery is it using and so on. In reality a heavy user (5+ times a week) can go through a set of batteries inside a year, other, very occasional users (1-2 times a week) may keep the same batteries for up to 5 years. As a very general guide we suggest that people budget for new batteries every 2-3 years.
Most batteries do come with a 12 month warranty against manufacturer defect only – please note this does not cover normal everyday wear. We stock a full range of batteries from 12 to 100 amps from a variety of manufacturers – please contact us for more information.